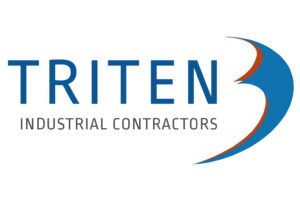 Who We Are / Company Overview
Triten Industrial Contractors
A strong commitment to customer service and customer satisfaction
Triten Industrial Contractors was established in 1981. Since that time, our company has built a solid reputation for reliable service, experienced and safety-conscious employees, and a steadfast commitment to completing projects on time and within budget. Our knowledgeable team is capable of handling projects of all sizes. We have the capability to handle projects from design to construction completion, and we have experienced field maintenance teams standing by to provide your company with reliable preventive maintenance and service plans.
---
Design and Fabrication​
Our design and fabrication capabilities allow us to manufacture and meet tight tolerance requirements and production runs for diverse industry needs. No matter the size of the project, Triten is able to assist and manage the custom fabrication, design and build of projects, from start to finish.
Custom Tanks

Custom Stainless-Steel Fabrication

Pump Base Fabrication

Boiler Ductwork Fabrication

Air Supply Systems

Catwalks
Ladders

Stairs and Handrails

Helipads

Mezzanines

Access Platforms

Custom Harbor Navigation Systems
---
Maintenance and Repairs​
In addition to our preventative maintenance designed to ensure the fewest number of unexpected repairs possible, Triten is prepared to offer emergency maintenance, unexpected maintenance, upgrades, and repairs.
API 653 Tank Inspections and Repairs

Automatic and Manual Tank Gauges

Manway Modifications

Leak Detection

Tank Floor Replacements & Repairs

Tank Level Probes

Tank Rehabilitation and Modification

Floating Roof and Roof Seal Installation

High Level Control Valves 

High and Low Level Alarms
Fuel Pump and Meter Installation

Control, Pressure Relieve, and Isolation Valve Installations 

Steel Pipe Installations and Repairs

Stilling Well Install and Modifications

Cathodic Protection

Secondary Containment Repairs

Petroleum Process Piping 

Pulp and Paper Plant Maintenance

Marine Dock Repairs

Steel Equipment Maintenance
---
Piping and Pipelines​
Triten has experienced DOT Certified mobile pipeline welders and fitters currently assisting customers throughout the country. We provide our clients with DOT Certified Hydro Testing Equipment in all areas of pipeline applications.
Stainless & Carbon Steel Pipe Installations

Petroleum Process Piping

High Level Control Valves

Fuel Pump and Meter Installation

Install New High Level Control Valves
Pig Launcher Support

Bulk Storage and Pipelines

DOT Level Pipeline Welding

Cathodic Protection
---
Shop Facilities​
To better suit our clients' needs, Triten offers on-site or in-house services. For in-house services, Triten has a range of tools at our facilities to properly and efficiently complete the job. We are constantly adding to our selection of tools and services available at our facility, however here are a selection of some of our most frequently requested tools:
8 foot & 5/8-inch capacity plate roller

Do All friction saws

Welding tools and machinery including acetylene to TIG, and MIG.

Hydrapower plate shear
95-ton Piranja iron worker

30-ton overhead crane

8-foot plate rolls capability of ¾ inch foot plate
---
Hydrostatic Testing
Pressure testing is performed to ensure the integrity of a pipeline. The pressure test provides verification that the pipeline is structurally sound by withstanding a required pressure for a specified time period. Pressure testing is normally conducted using water as the test medium (hydrostatic testing).
Identify potential abnormal operating conditions (AOC)

Utilize the appropriate personal protective equipment

Pipeline isolation for testing

Calibration of the testing equipment

Installation of temperature probs and pressure recording instruments.
Filling and venting of isolated pipeline segments

Pipeline pressurization according to specified procedures.

Data recording of pressures and temperatures

Documentation and Reporting
---
Civil and Sitework​
Triten is experienced in all types of civil and sitework. When needed, Triten is supported by its affiliate IngenAE, LLC who has a staff of Licensed Professional Civil Engineers and Geologists. Triten carries DOT and ISNET Certifications and has decades of experience of working on and around unmarked utilities and live process piping. Triten routinely performs pre-job safety analysis (JSA), fire watch and can provide a certified person in charge (PIC), certified operator qualifications (OQ) and DOT Qualifications.
Sitework and Grading

Underground Piping

Hydrovac and Dryvac Excavating

Marine Pile Driving
Concrete Foundations and Slabs

Removal of Asphalt and Concrete

Sludge and Ash Removal and Disposal

Demolition Services
---
Specialty Coatings​
Triten provides high-quality maintenance and coating application knowledge for both large and small projects.
Ultra-High Pressure Cleaning

Tank Linings

Secondary Containment Coatings

Cementitious Coatings

Asset Management Surveys

Geo-Textile Linings
High-Temp & Insulative Coatings

Plural Component Spray Applications

MIL-Spec Coatings

Floor Coatings

Concrete Sealing

General Painting
---
Sandblasting​
Sandblasting is one of the oldest and most widely used methods for heavy-duty cleaning. Proper preparation before painting or coating is essential to a lasting protective finish.  In some cases, removal of an old finish is required.  Sandblasting is used for all kinds of applications, most commonly for removing paint and heavy contaminants from metal and concrete surfaces. Triten carefully evaluates each project when our industrial sandblasting services are contracted.  Our skilled technicians safely remove old paint, chemicals, rust and dirt while preserving the integrity of the underlying metal. Triten has experienced staff and required tools for all of your industrial sandblasting needs.
Power Washing

Pressure Cleaning

Paint Removal

Water Blasting

Water Sealing
Soda Blasting

Media Blasting

Abrasive Blasting

Sandblasting

Steam Cleaning